A History dotted with ideals and action
Seva, Simran and truthful living are a few basic concepts of the Sikh way of life apart from Daya, Dharam, Santokh, Sanjam and Nimrata. Those who start with Seva without expectation of any reward (Nishkam-Seva) and go on doing it, are bestowed with the boon of Simran from which follows the 'truthful living' and other evolved humane qualities.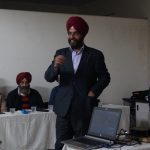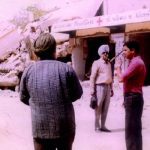 SRI GURU NANAK DEV JI SAID:
"Truth is above everything but higher still is truthful living". Thus, Seva is the first step to achieve the final goal of eternal peace.
The encyclopedia of Sikhism says:
"True Seva according to Sikh scriptures must be without desire (Nishkam), guileless (Nishkapat), in humility (Nimarta), with the purity of intention (hirda shuddh), with sincerity (chit-lae) and in utter selflessness (vichon ap gavae). Such Seva for the Sikh is the doorway to dignity as well as to Mukti (liberation). "If one earns merit here through Seva, one will get a seat of honour in His Court hereafter."
According to Sikh tenets: "You become like the one you serve". Therefore, for those who desire oneness with God, serving God and God alone is the prime way. But God in Sikhism is transcendent as well as immanent. The Transcendent One is ineffable and can only be conceived through contemplation. Service of God, therefore, only relates to the immanent aspect of God and comprises service of His creatures. Humanitarian service is thus the Sikh ideal of seva.
Keeping in mind all this, the "Nishkam Sikh Welfare Council" was conceived in 1984, when the Sikh community was going through turbulent times.
November,1984

Nishkam started Relief & Rehabilitation of families affected by happenings in November, 1984.

1985 – 90

- Establishment of free dispensary for affected families of November, 1984 happenings.
- Establishment of Tuition, Shorthand / Typing centres.
- Establishment of Music, Knitting and Stitching Centres.
- Got FCRA Registration in 1985.
- Started construction of Nishkam Bhawan at Tilak Vihar, New Delhi.
- Relief assistance to families affected by floods in Punjab in 1988.

1991 – 95

- Completion of building of Nishkam Bhawan at Tilak Vihar, New Delhi and start of Nishkam Medical Centre
- Start of Nishkam Scholarship Programme
- Relief assistance to families affected by Earthquake in Uttarkashi in 1991

1996 – 2000

- Setting up of Mata Gujri Sukh Niwas (Old Age Home-cum-Orphanage) at Kharar, Punjab (Near Chandigarh)
- Establishment of Library

2001 – 05

- Relief to families affected by the massive Earthquake in Gujarat in 2001 and Tsunami in South India in 2004.
- Start of Sikligar Education & Housing Project in Bangalore, Karnataka.
- Relief assistance to families of Tangdhar and Uri affected due to the earthquake in Jammu & Kashmir in 2005.

2006 – 2010

- Expansion of Sikligar Project to other Districts of Karnataka.
- Relief assistance to families in Madhepura (Bihar), affected due to flood in Kosi in 2008.
- Established Yamunanagar Medical Centre.

2011 – 2020

Nishkam Talent Search & Support Programme